Summary of the month of July in crypto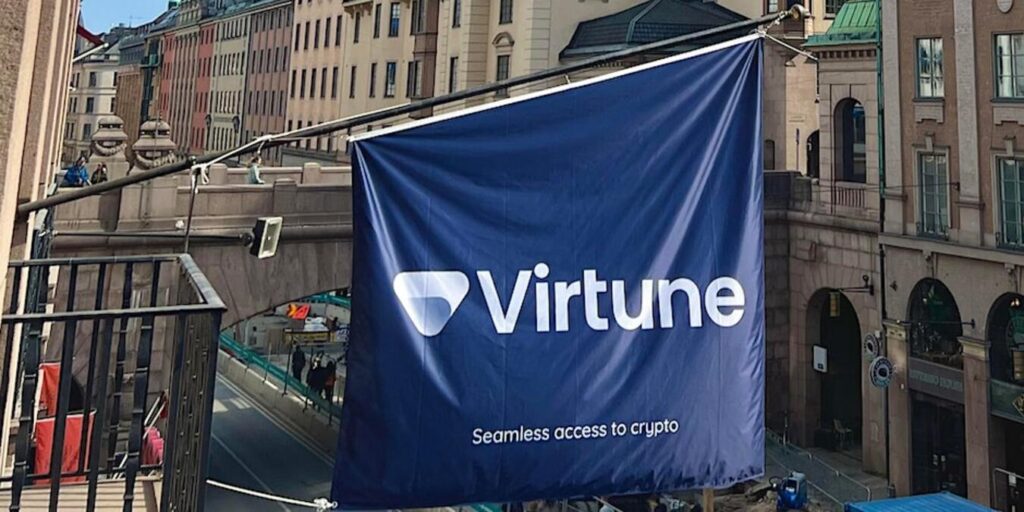 July 2023 has ended and this is Virtune's monthly newsletter, where we cover the latest events and news in the crypto market as well as the development of our exchange-traded products.
While June saw a number of significant events, including the application for Spot Bitcoin ETFs by prominent players such as Blackrock and Fidelity in the US, July has been a quieter month in the crypto world. During July, it can be noted that the volatility has been unusually low where Bitcoin saw its lowest volatility levels since 2017, Bitcoin is often used as a reference point to measure the crypto market as a whole and its price stayed in a range between $29,000 and $31,500.
The total market capitalization of the entire crypto market landed at around $1.22 trillion as July drew to a close. One trend that has continued is that the number of active digital wallet addresses has continued to increase for the sixth consecutive month, which is a positive sign and can be seen as a promising indicator of future market developments.
Historically, calm periods in the crypto market have been followed by more tumultuous events. Therefore, attention is now focused on the ongoing Spot Bitcoin ETF applications in the US. At the same time, statements from the SEC (the US financial regulator), which argue that several established cryptocurrencies should be classified as securities, have led to significant speculation and the outcome could have a major impact on market developments going forward. In parallel to the regulatory issues in the US, the European crypto regulation MiCa regulation will enter into force in the EU early 2024, this regulation is expected to contribute to increased clarity in the crypto market and may mean that more institutions choose to approach crypto.
Furthermore, there are only eight months left until the Bitcoin half-life which occurs every four years and historically the Bitcoin half-life has acted as a catalyst for bull markets. The concept of Bitcoin halving revolves around a reduction in the production of new Bitcoins, halving the rate at which new Bitcoins are extracted through mining. This will result in an increase in value if demand remains the same or increases, creating a dynamic where limited supply drives the potential for increased value. With these factors, a shift from this current calm period is expected in the near future.
Three major events
XRP's victory against the SEC
A significant event that attracted attention in July was XRP's victory against the SEC, when the court ruled that XRP does not qualify as a security. This favorable outcome led to a remarkable increase in the value of XRP, causing it to temporarily take fourth place in terms of total cryptocurrency market capitalization. What also makes this event interesting is its potential impact on other cryptocurrencies facing similar regulatory charges by the SEC, indicating that they too may not fall under the securities classification.
The announcement of Worldcoin
Another event that has received a lot of attention was the launch of the new cryptocurrency Worldcoin by Sam Altman, known as one of the creators of ChatGpt. Worldcoin aims to enable identification verification through eye scanning on the internet. However, the reception from established crypto experts has been mixed, with some expressing skepticism about Worldcoin. There has also been criticism of the use of biometrics and the potential for data to be mishandled.
Further Bitcoin accumulation by MicroStrategy
MicroStrategy is a public tech company listed on Nasdaq New York and run by Michael Saylor. They recently published their financial results for the second quarter which showed that they have accumulated an additional 12,333 Bitcoins. This has increased MicroStrategy's total Bitcoin holdings to an impressive 152,800 Bitcoins, representing a value of approximately SEK 47.1 billion.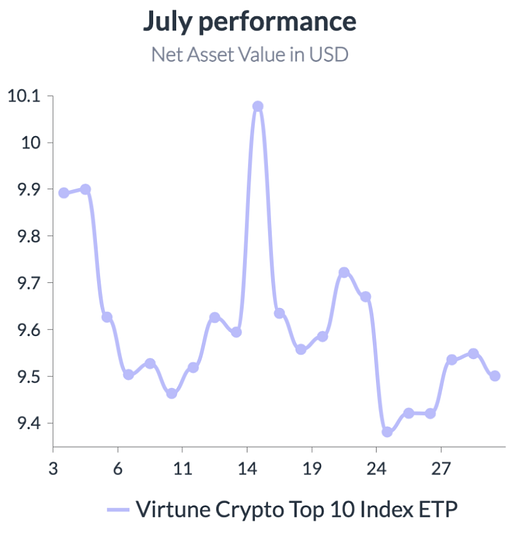 Performance of the Virtune Crypto Top 10 Index ETP

Virtune Crypto Top 10 Index ETP
had a relatively quiet month, with the exception of a short-lived surge on July 14. Overall, the ETP delivered a negative return of -3.95% in July. Despite this, the overall performance since its inception on May 15 has shown growth of 8.18% as of July 31.
Performance per coin of the Virtune Crypto Top 10 Index ETP
The ETP includes up to 10 leading cryptocurrencies, with the allocation determined based on the total market capitalization per cryptocurrency, but with a maximum limit of 40% per coin to promote diversification. Bitcoin and Ethereum, which together make up 80% of the index, showed a negative performance in July. At the same time, some altcoins delivered a very strong performance, with Stellar standing out with a remarkable gain of 38.91%. Stellar's main focus is to offer payment solutions similar to XRP, which leads to their price trends often moving in sync. As a result, the SEC's favorable decision in XRP's case played a role in triggering a rise in Stellar's price as well.
New allocation after rebalancing on July 31
– Bitcoin 40
– Ethereum 40
– Litecoin 4.53%
– Polkadot 4.36
– Bitcoin Cash 3.18%
– Chainlink 2.83%
– Stellar 2.75
– Uniswap 2.31%
Virtune events
The arrival of late summer marks the beginning of Virtune's upcoming events that will take place in the fall. 18:00 on Thursday, August 10, we invite you to a crypto get-together at our office on Kungsgatan 26. Please see our events calendar and do not hesitate to register if you wish to participate:
https://virtune.com/events