Description
Since 1986, the most bought trading program in Denmark and Sweden. Why? Many people and organisations makes good trading with the program. You can get the program in Swedish, Danish or in Norwegian with that countries own stock market. Vikingen Börs can sort out the most interesting shares at the moment for you. You can add alarms and Vikingen alerts you when it is time to buy or sell. Comes also with . You can add other stock markets, e.g. USA, swedish funds, Danish ETF…..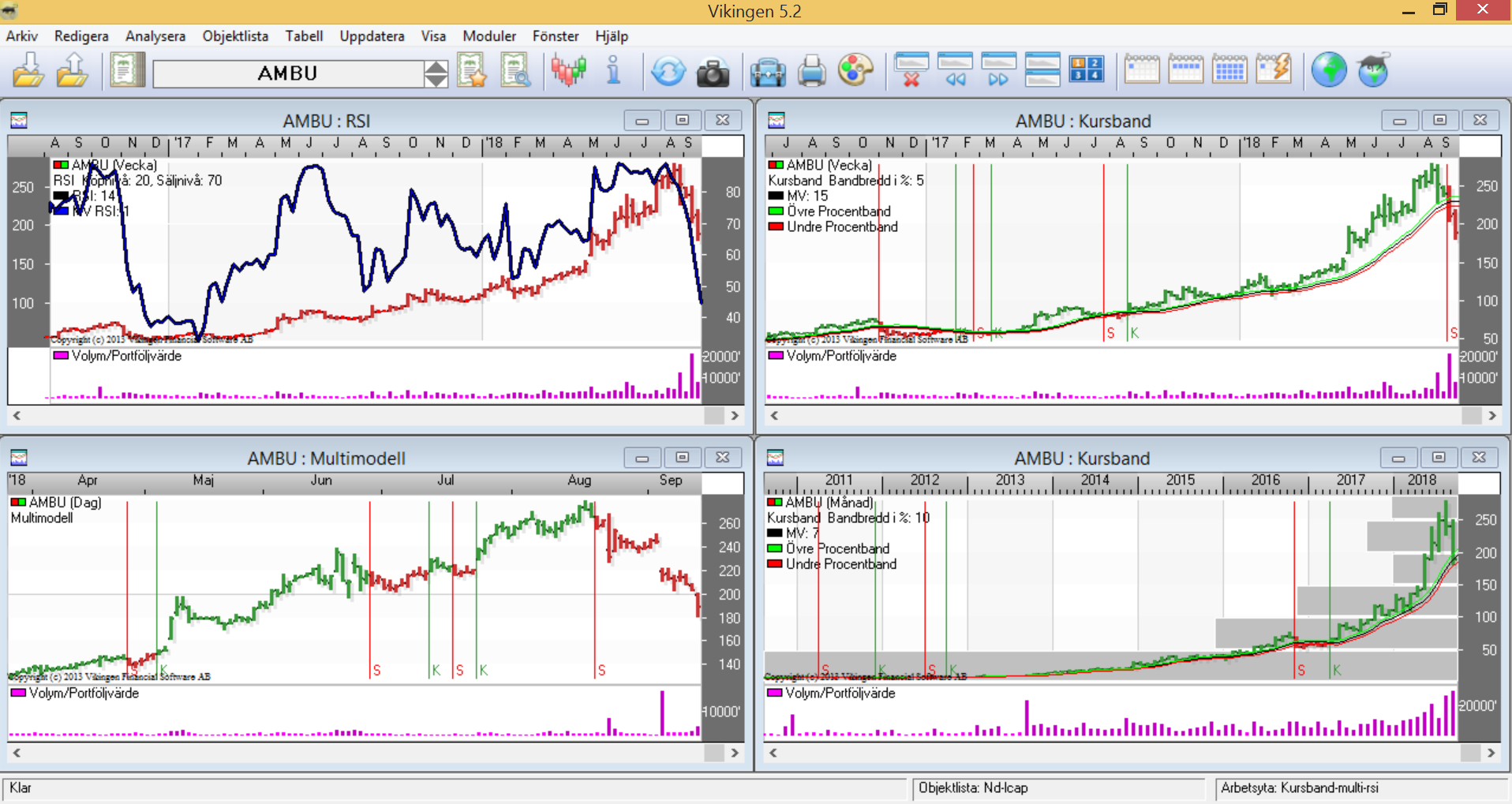 Above: Buy for 90 and sell to 212. Kursband, week. Nice profit.
Vikingen Börs Includes:
One country stock market,
A selection of indexes, currencies, commodities and interests,
Most traded shares in Sweden/Denmark/Norway/Finland.
Autopilots. Automated programs which presents new sell and buy signals
Drawing tool and alarm lines which Vikingens monitors for you.
Prepared work sheets. Gives you an overview on daily, weekly and monthly basis
50+ trading models
Profit graph for every signal model
Easy to use
Fundamental key fiigures for one stock markets shares, About 51 data from annual reports, 11 years back
Company description
Portfolio management
Ability to group your own selections of shares and other equities.
Vikingen Börs är programmet som hjälper dig att ta rätt beslut när det är dags att köpa och sälja. Du kan enkelt följa trender, hitta bra köplägen, bevaka risker och aktiviteten på börsen för dina egna placeringar. Vikingen kan automatiskt sortera ut de senaste köp- och säljsignalerna av dina värdepapper (t.ex aktier/fonder/Råvaror/Valutor)
Vikingen gör det svåraste jobbet åt dig genom att automatiskt skicka ut tydliga köp- och säljsignaler så att du vet när det är dags att agera. Modellerna visar grönt för köp och rött för sälj. På så sätt får du ökad chans till mindre förluster och bättre vinster. Vikingen är ingen garanti för att du skall lyckas, utan det beror på dig själv vilka beslut du tar. Men du får en mycket god och oberoende hjälp.
Autopilot
Här är resultatet av en körning med en autopilot. Aktuella köpsignaler 13 sept 2018. Nästa steg blir att gruppera aktierna i en grupp och gå igenom dem själv, t.ex. med arbetsytan ovan. Finns beskrivet i en video här på hemsidan. Ett MYCKET lönsamt arbetssätt. Kan vara därför kunderna använder Vikingen år efter år.