Buy signals for stocks in June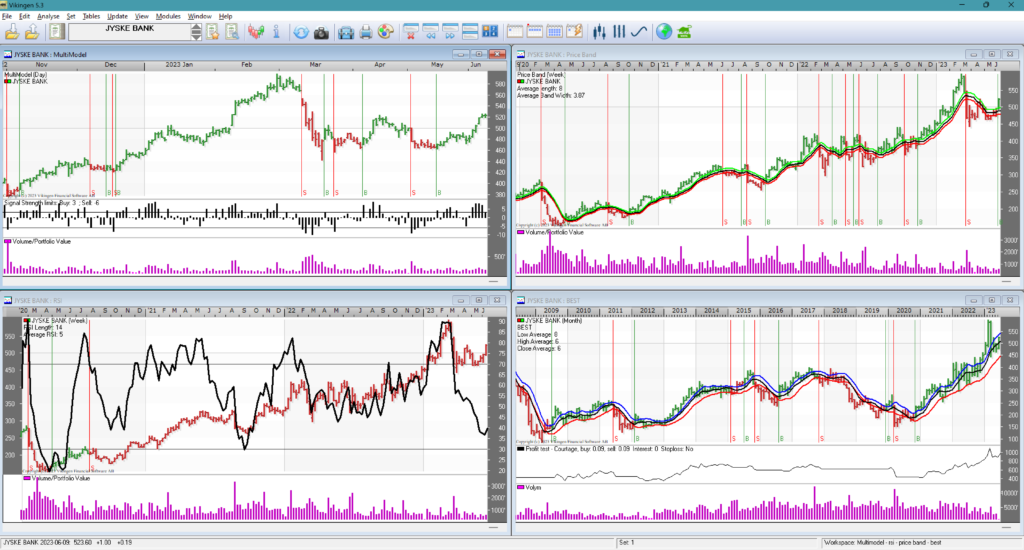 Buy signals for stocks in June
It is almost only stocks from the US that give buy signals for stocks in June. These stock tips are based on the 03 autopilot in the Viking. A filter based on the stock being in buy mode with the BEST model for day AND week AND month. That is, these stocks are more likely to rise than those with temporary signals. The filter provides a list of shares. I scroll through the list with a workspace that contains the Day Multimodel, Week RSI and Price Band, and Month with the BEST model.
Developing buy signals for the best stocks
"A good stock is a stock that rises." Quote Peter Östevik. But how do you get there? I also want to have time to sell, so it's good if the stock rises for at least a few days or weeks.
I mostly use daily charts to screen out stocks with low turnover. Daily charts are good for looking at volume. The volume should increase a lot when the share price changes a lot. Because it then becomes a signal that lasts for a few days. The signals in weekly charts are usually profitable and also show whether the medium-term trend is breaking up or down. Low and rising RSI is good. Even better if the RSI has a double bottom. Weekly price bands are a good averaging model that filters out unnecessary purchases. The Bollinger week model works just as well.
The BEST monthly model is perhaps the best long-term savings model in the world. It also shows where the long-term trend is headed, as it is good to have a positive trend behind you in case the stock temporarily goes down.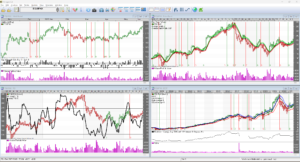 The fact that the Equinox has a formation of an upside-down main shoulder in the weekly chart, makes it extra interesting, as it shows a reversal of the upward trend with about 90% probability.
Interesting key figures for buy signal
If a stock looks worth buying, I look at the company itself. What does the company do? Do they seem to be in a good business? What are the key figures? The key figures for Nordic companies can be found with the command View Key Figures or Tables -> Fundamenta or Analysts -> FA-graph and models. The company's activities are listed under Visa -> Company description. Vikingen only has key figures for Nordic companies, not from the US.
If you are missing any Nordic company key figures, they are available here: Supplement – Stock market program for those who want to become even richer (vikingen.se).
Finally, I try to find the latest news and reports from the company. Of course, it is good if sales increase, a new product is released, an approval is obtained, a crisis situation is resolved, etc…
The list of the best stocks in June
Of all the stocks in the Nordic countries and the US, I believe that the following stocks have the best chance of going up according to the proven method above:
| | |
| --- | --- |
| Instrument | Load |
| ADVANCED ENERGY INDUSTRIES | 105 |
| BEACON ROOFING SUPPLY | 73,4 |
| CITIZENS FINANCIAL SERVICES | 91,3 |
| ENCORE WIRE | 185 |
| EQUIFAX | 224 |
| FORZA X1 | 3,12 |
| GMS | 68 |
| GREENE COUNTY BANCORP | 31,2 |
| JYSKE BANK | 524 |
| MOOG A | 109 |
| NAUTILUS BIOTECHNOLOGY | 3,31 |
| NORSE ATLANTIC | 21,9 |
| RUSH ENTERPRISES A | 58,6 |
| TALKSPACE | 1,21 |
I have some doubts about the airline Norse Atlantic, as they are making losses. However, the chart does not lie, someone knows more than me….
ATTENTION! All trading is at your own risk. A tip here does not guarantee a price increase. Vikingen Financial Software AB does not share in your profits or losses.
If you have Vikingen Exchange, Trading or Maxi – Use the Autopilots!!! They make it much faster to find buy and sell signals. If you have Maxi – use the Maxi01 autopilot to filter out good options to issue or to buy!!! Very high accuracy.
Buy signals in June come from the Viking
ATTENTION! 10% off everything in June. Write to support@vikingen.se
You can see a comparison here: Detailed comparison
Here are all the add-ons beyond the basic packages. Everything can also be added to the Viking Mini: Add-ons