Black Friday at Vikingen 24 to 26 November with 40% discount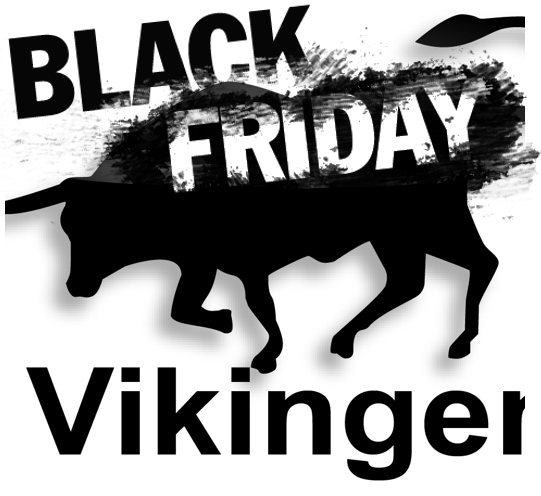 Black Friday – Friday, November 24.
40% DISCOUNT on
the Vikingen program and its extensions if you
use the code "Black40". Valid 24-26 November.
Vikingen Mini:                   
70

>      42 USD one year
Vikingen Maxi:   
930

> 558 USD one year, Save 372 USD

ATTENTION! Also 40% discount on all add-ons like Nasdaq, Nyse, Options, Certificates, ETFs, Funds, Crypto, Futures…
A popular example with a 40% discount:
Vikingen Exhange + Nordic Complete + Nordic companie's key figures += 220+ 81 + 44*42= 469 USD one year. (Save 243 USD)
Nordic Complete = All major Nordic stock exchanges.
Five models, the most traded shares in the Nordic region, PPM, major indices, company facts.
A stock exchange, a selection of interest rates, currencies, commodities and indices, autopilot that filters out tips on buying or selling, company facts, drawing function with alarm, PPM. Over 50 models.
Like Vikingen Börs with the addition of minute prices during the day, optimization of settings per item, saving the best model for each stock, calculating the next signal and setting it as an alarm automatically, and backtesting your own models.
Includes all add-ons and features, making it the best value package. Also includes a unique and accurate options model and options update.
Want to know more?
Write to support@vikingen.se www.vikingen.se and/or join a video conference:
Join us for a live meeting with the Viking and Peter Östevik. Click on one of the links below to watch.
You can post questions in the chat or email them in advance to support@vikingen.se. The seminar will be hold in Swedish.
Download Zoom before the meeting to speed up your entry. Maximum 500 participants.
Sunday 26 November, 19-19.45 pm
During this live meeting with the Viking, we will discuss, among other things, the following.
– Review of indices
– The different parts of the Viking
– Stock market tips (Shares, options, certificates, funds, ETFs)
– Questions
– Offer
Disclaimer
Keep in mind that saving in securities always involves a risk. The value of your investment can go down as well as up and you may not get back the full amount you invested. Nor is the historical performance of a security a guarantee of future performance.
Investing in securities always involves the risk of losing your money.
About the Viking
With Viking's signals, you have a good chance of finding the winners and selling in time. There are many securities. With Viking's autopilots, models, price data, tables and stock prices, you can sort out the most interesting ETFs, stocks, options, warrants, funds, certificates, mutual funds, indices, etc.