The difference between physically backed and synthetic ETPs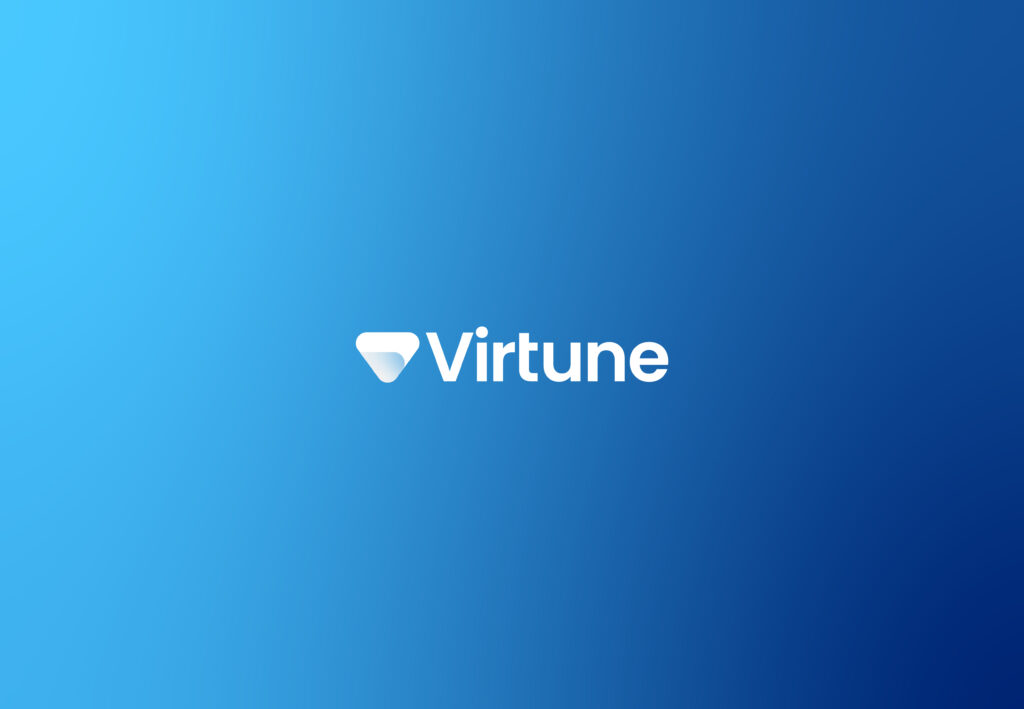 We have received many questions from investors if there is any difference between physically backed ETPs compared to synthetic ETPs? The answer is yes!
Physically backed vs. synthetic ETP
What does it mean when an ETP is physically backed versus a synthetic exposure? It is important to understand the differences as it is quite important when making a prudent investment.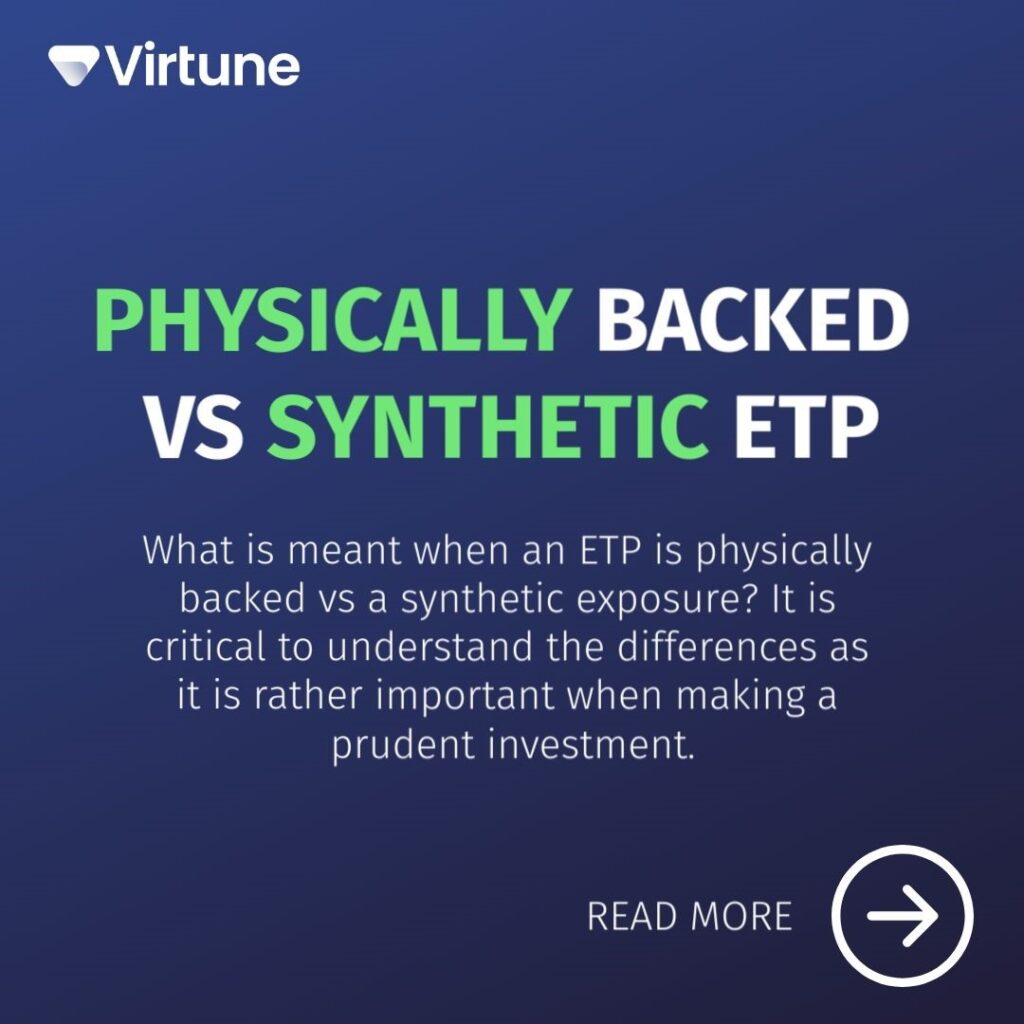 Synthetic
A synthetic ETP means that the value of the ETP is linked to a cryptocurrency mainly through derivatives traded with other counterparties instead of the actual underlying asset.
There is constant risk management to precisely hedge the exposure using derivatives versus actual spot cryptocurrencies. If the counterparties exchanging derivative instruments do not agree on the trading details, the investment in the synthetic exposure may not be able to recover its performance in time and may create an arbitrage tunnel.
There is a constant counterparty risk with the issuer offering synthetic exposure as the paper may not match the debt holders' requirements for it where redemption occurs at once.
For many years, synthetic crypto-ETPs have been available on the Swedish Nasdaq market, and many Swedes have invested in them.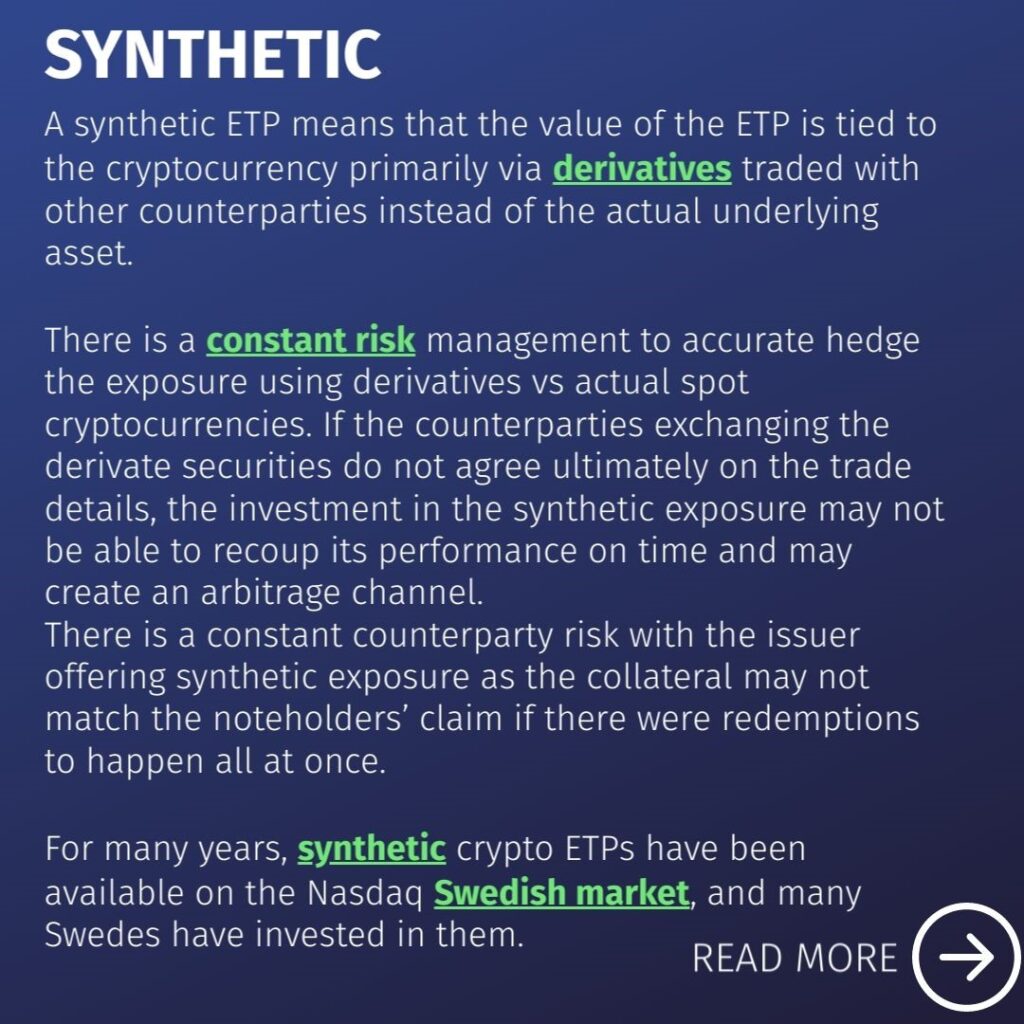 Physically supported
A physically backed exposure confirms that all spot investments are backed by 1:1 crypto investment and are owned and held by a regulated crypto depository.
In this structure, the corresponding cryptocurrencies are always available as 1:1 liquid assets – and the issuer takes no credit risk. Currently, this structure is the only one approved for new crypto ETPs, according to Nasdaq's requirements.
Virtune's products are always 100% physically backed.
Virtune Crypto Top 10 Index ETP (VIR10SEK)
Broad crypto exposure to up to 10 leading cryptocurrencies in one product.