Microsoft and Alphabet deliver strong results
US stock futures rose in extended trading after two of the world's biggest tech companies Microsoft and Alphabet deliver strong earnings that were better than forecast for the previous quarter.
THE S&P 500
which recovered and erased some of its losses in regular sessions.
Microsoft (MSFT) reported earnings per share of $2.45 on revenue of $52.9 billion for the third quarter ended March 31, up 10% for the former and 7% for the latter compared to the same period last year. Both metrics topped consensus estimates by a decent margin.
In terms of drivers, the intelligent cloud division was the main source of business growth, with a 16% increase compared to the previous quarter, slightly below the previous quarter's 18%. Meanwhile, the personal computers unit continued to perform poorly, declining by 9% due to weaker demand for computers and related software.
Elsewhere, Alphabet (GOOG) announced earnings per share of $1.17 on sales of $69.79 billion for the first three months of 2023, with top and bottom lines also surprising on the upside as advertising sales began to stabilize after recent weakness. Google's parent company also announced a $70 billion share buyback.
Here's how both companies performed relative to Wall Street's expectations:
Microsoft
– Earnings per share: USD 2.45 vs. expected USD 2.24
– Revenue: USD 52.9 billion compared to USD 51.12 expected.
Alphabet
– Earnings per share: USD 1.17 vs. expected USD 1.08
– Revenue: USD 69.79 billion compared to USD 68.87 billion expected.
Market reaction
Alphabet (GOOGL) surged after hours, jumping as much as 4.5%, boosted by better-than-forecast quarterly figures. Microsoft's share prices also moved higher, up 4.3% in extended trading in response to the company's encouraging financial results in the first three months of the year.
With two of the largest mega-companies posting favorable results, investor sentiment may improve in the short term, supporting the technology sector and the broader market. Against this background, the S&P 500 may have fewer obstacles to resuming its recovery in the coming days and weeks.
S&P 500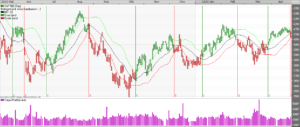 Source: The Viking
About the Viking
With Viking's signals, you have a good chance of finding the winners and selling in time. There are many securities. With Viking's autopilots, price data, tables and stock prices, you can sort out the most interesting ETFs, shares, options, warrants, funds, etc.
Click here to see what Vikingen offers: Detailed comparison – Stock market program for those who want to become even richer (vikingen.se)