How to easily take a broad position in cryptocurrencies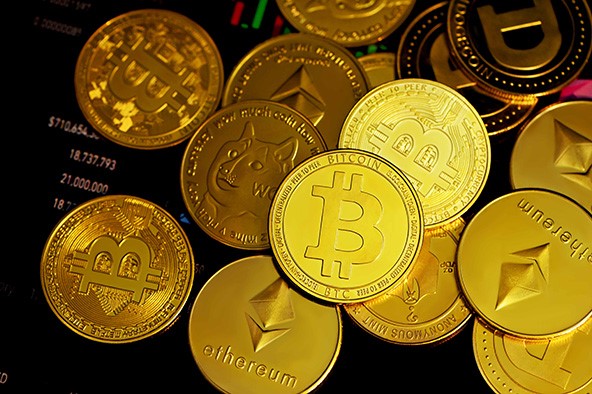 ADVERTISEMENT Valour Digital Asset Basket 10 gives you exposure to bitcoin and altcoins like XRP and Dogecoin in one product.
Valour is now launching a long-awaited exchange-traded product that follows ten of the largest cryptocurrencies, Valour Digital Asset Basket 10 (VDAB10) SEK.
– The crypto industry can be difficult to navigate for many, so VDAB10 is a great way for investors to gain diversified and dynamic exposure to the digital asset ecosystem," said Johanna Belitz, Valour Head of Sales France and Nordics.
Today, Valour has products on a number of digital assets such as Solana, Polkadot, Avalanche, Uniswap and Cardano. However, Valour became best known in the Swedish market when it introduced its ZERO products, which provide exposure to the two largest digital assets, bitcoin and ethereum, with no management fees.
High demand for alternative digital assets (altcoins)
The market for digital assets is constantly growing and evolving. The Valour Digital Asset Basket simplifies the way to take a position in digital assets.
The offer in VDAB10 is unique and consists partly of currencies that are not currently accessible via ISK or KF. When launched in Sweden, the product will include: Bitcoin, Ethereum, Binance BNB, XRP, Cardano, Doge, Polygon, Solana, Polkadot and Litecoin. Next comes the product 10 of the largest digital assets weighted by their market value. This means that the underlying digital assets included in the basket will change with their respective ups and downs.
Trade Valour Digital Asset Basket 10 on Nordnet here
Trade Valour Digital Asset Basket 10 on Avanza here
The Nordic market is showing an increasing demand for altcoins.
Valour Digital Asset Basket 10 gives you exposure to bitcoin and altcoins like XRP and Dogecoin in one product.
– The basket should appeal to our Nordic investors as it contains digital assets such as Dogecoin, Binance BNB and Polygon – all of which have been in high demand," says Johanna Belitz. XRP, which has recently surged in price, also forms a large part of the basket and can be added to an investor's regular portfolio by investing in the product.
Re-weighted quarterly
A single asset can represent a maximum of 30% of the portfolio, which is lower than other players. This means that exposure to altcoins will play a greater role, and that the two largest – Bitcoin and Ethereum together can only make up a maximum of 60% of the basket's contents. The index is rebalanced on a quarterly basis and may also allow other assets to enter.
*Stablecoins and currencies pegged to the price of assets already represented in the basket are excluded from the sample.
Zero certificate – cost-effective tracker certificate
Valour already offers crypto trading certificates with no management fee, exposed to Bitcoin and Ethereum, the two largest digital assets. Zero certificates simply follow the price of the respective asset, without charging a management fee. If the product is held over time, this lack of management fee makes a big difference to the investment.
Shop our products on Nordnet
Trade Valour Bitcoin Zero SEK here
Trade Valour Ethereum Zero SEK here
See all Valour certificates here
Buy our products on Avanza
Trade Valour Bitcoin Zero SEK here
Trade Valour Ethereum Zero SEK here
See all Valour certificates here
Briefly about Valour
Valour was founded in 2019 with the goal of making it easier, more cost-effective and safer to invest in digital assets. The founders of Valour listed the world's first crypto ETP on Nasdaq Nordic in 2015 and were the first to list a crypto mining company on the Toronto Stock Exchange in 2017. Today, Valour consists of a knowledgeable and innovative team with extensive experience and deep expertise in financial markets and digital assets. Read more at
Valour.com
.
The contents of this article constitute promotional material only and should not be construed as advice, offer or recommendation to purchase any product or service.
You are about to buy a product that is not simple and can be difficult to understand. Before deciding to invest, you should carefully consider your investment objectives and risk tolerance, and read the prospectus to fully understand the potential risks and benefits associated with the decision to invest in the securities. Approval of the prospectus does not imply approval of the securities covered by the prospectus.
An investment in securities can go up and down in value and you may not get back the capital you invested. Past performance is no guarantee of future performance or returns. Prospectus, KIID and final terms are available on
Valour.com
.