Fresh Stock Tips Jan 13, 2023
Fresh Stock Tips
In these fresh stock tips 13 Jan 2023, the strongest shares among 7000 shares from Sweden-Denmark-Finland-Norway-Nasdaq-Nyse are presented.
Market
Pretty much everyone is from the U.S., because it's a better market right now.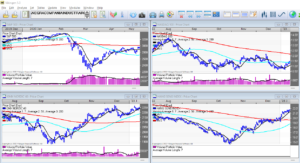 The Nordic stock markets are at a standstill. The Swedish is worried about interest rate hikes and impending recession now that the construction market is slowing down.
Fresh Stock Tips  13 jan , 2023
This list is created with the autopilot number 3 in Vikingen. It filters all shares from Sweden-Norway-Denmark-Finland-USA. "Buy signals all shares month-week-day-BEST". By this is meant that Vikingen creates a list of stocks that are in the buy position of long and medium and short trend. Based on the unique model BEST. The so-called autopilots are included in most Vikingen packages, but not in Vikingen Mini. When is it time to sell? A good way is to follow up on the stocks once per week and sell them when the trendline is broken in the weekly chart. Good luck!
| | |
| --- | --- |
| Instrument | Last |
| ACADIA PHARMACEUTICALS | 18,34 |
| AEHR TEST SYSTEMS | 27,67 |
| ALAMO GROUP | 154,84 |
| AMERICA MOVIL S.A.B.DE/NASDAQ | 20,25 |
| ANNEXON | 6,25 |
| APPFOLIO A | 119,71 |
| AQUA METALS | 1,27 |
| ARBUTUS BIOPHARMA | 2,87 |
| BANCO MACRO ADR B | 20,75 |
| BANCODECHILEBANCODECHILEADS | 20,46 |
| BIOLIFE SOLUTIONS | 23,47 |
| BONSOELECTRONICSINTERNATIONAL | 3,94 |
| CARPENTER TECHNOLOGY | 43,75 |
| CHAMPIONX | 31,85 |
| CUE BIOPHARMA | 3,41 |
| DOCGO | 7,72 |
| DUEARITY | 8,77 |
| ECOPETROL S.A. ADR | 11,55 |
| FIRSTCITIZENSBANCSHARES INC(NC | 819,53 |
| FRESHPET | 60,51 |
| GEOPARK | 15 |
| GLOBAL BLUE | 5,44 |
| HALLIBURTON | 42,17 |
| HERANTIS PHARMA | 31,6 |
| IGM BIOSCIENCES | 24,59 |
| JANUX THERAPEUTICS | 17,45 |
| KANDI TECHNOLOGIES GROUP | 2,86 |
| LEADING EDGE MATERIALS CORP | 2 |
| LINC | 70,8 |
| LOMANEGRACOMPANIAINDUSTRARGENT | 7,61 |
| NTR HOLDING B | 5,85 |
| OCUPHIRE PHARMA | 3,65 |
| ONCTERNAL THERAPEUTICS | 1,27 |
| PCTEL | 4,85 |
| PERPETUA RESOURCES CORP | 3,05 |
| POINT BIOPHARMA GLOBAL | 7,7 |
| PRECIGEN | 1,76 |
| RAPT THERAPEUTICS | 26,59 |
| RPC | 9,99 |
| RYDER SYSTEM | 90,45 |
| SHIFT4 PAYMENTS | 60,56 |
| VIKING THERAPEUTICS | 8,77 |
| VSE | 51,05 |
| ZYMEWORKS | 8,67 |