Many buy signals in ETFs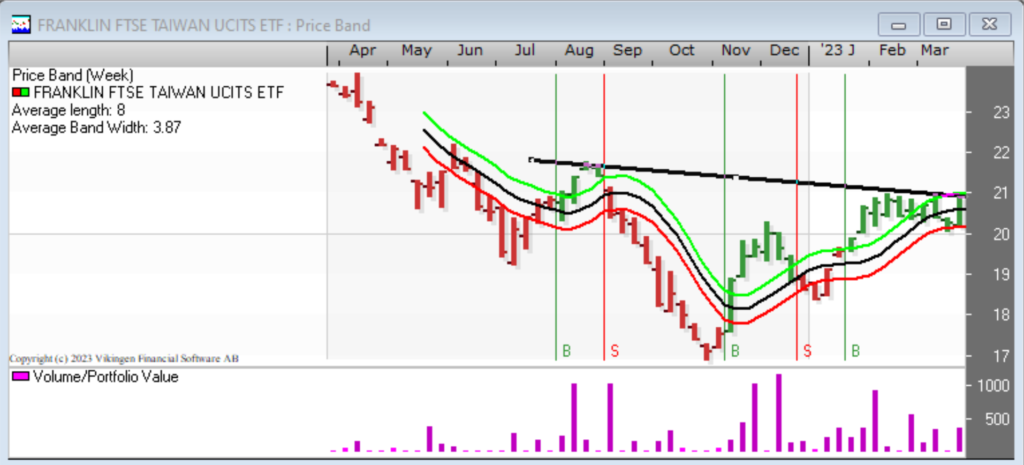 Many buy signals in ETFs from German Xetra
Now there are many buy signals in ETFs. Around 178 ETFs on the German Xetra exchange have a buy signal according to the Multi Model in the Viking. There are no big bursts, but what is remarkable is the large simultaneous number of ETFs. ETF stands for Exchange Traded Funds.
You trade the fund like an ordinary share. The price is sold and traded continuously during the day. Good chance for those who want to spread the risks and opportunities,
Formations for many buy signals
Many buy signals in the ETFs show a small bottom formation in the shape of an island. Some even have a wrap-around formation in the form of an upside-down head-shoulder. Especially Taiwan ETFs have such a formation. The course is at the neck line. If it goes through, you are technically buying the right thing, the right timing.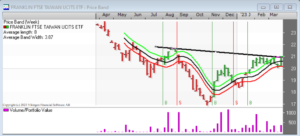 The above fund invests in large and mid-cap stocks in Taiwan and seeks to track the performance of the FTSE Taiwan 30/18 Capped Index ("Underlying Index") as closely as possible, regardless of whether the underlying index level rises or falls. Why invest in another country? To spread the risks and opportunities. Capital has a capacity to move. If you follow the flow of capital, you can make more money. However, there is also a currency risk when buying abroad. This particular index tracks Taiwan's largest stocks. Read more here: Franklin FTSE Taiwan UCITS ETF – IE000CM02H85 (franklintempleton.co.uk)
Interesting buy signals in ETFs
Buying 178 ETFs is a bit much. I first ran Autopilot 09, which generates current buy signals for the selected item list. It creates a list called Buy. I then changed the setting to week (File System Settings-Models-Week) and created a collection table for the Buy list. Then I got the ones that are in purchases for the week. Feels good if you also have the weekly trend behind you. From 178 ETFs, only 8 remained.
| | | |
| --- | --- | --- |
| Instrument | Time | Load |
| OSSIAMGLOBALMULTIASSETRISKCONT | 2023-03-24 | 256,8 |
| JPMORGANUSDULTRASHORTINCOMEUCI | 2023-03-24 | 99,61 |
| ISHARESMSCIJPESGENHANCEDUCITSE | 2023-03-24 | 5,22 |
| SPDRBLOOMBERGEMARKETSLOCALBON | 2023-03-24 | 52,31 |
| XTRACKERSSHORTDAXX2DAILYSWAPUC | 2023-03-24 | 1,26 |
| FRANKLIN FTSE TAIWAN UCITS ETF | 2023-03-24 | 20,9 |
| ISHARESMSCIMEXICOCAPPEDUCITSET | 2023-03-24 | 135,3 |
| XTRACKERSMSCITAIWANUCITSETF1C | 2023-03-24 | 45,21 |
Vikingen includes ETFs from Denmark, Sweden, Norway, USA and Germany. Only closing prices for German ETFs. Others will be updated throughout the day. German ETFs come from the Xetra marketplace operated by Deutsche Börse, the Frankfurt Stock Exchange. Xetra accounts for around 60% of all stock exchange trading in Europe.
Monitor your ETFs in Viking! A subscription for Danish/Swedish/Norwegian/USA ETFs costs 79 SEK per month or 790 SEK per year.
German ETFs cost 59 SEK per month or 590 SEK per year. ETF Germany – Stock market program for those who want to become even richer (vikingen.se).
Danish/Norwegian/USA/Swedish ETFs for Vikingen: Supplement – Stock market program for those who want to become even richer (vikingen.se)
.