Ändra datum i egna arbetsytor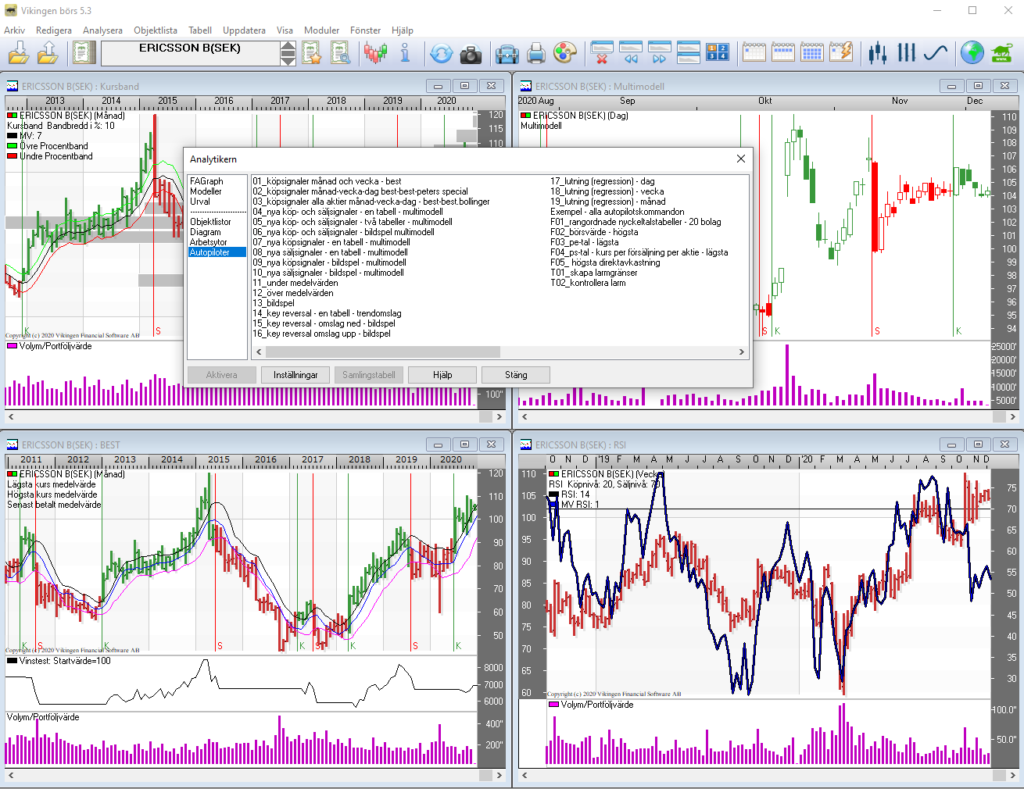 Vikingens arbetsytor slutar visa kurser 2020-12-30
Nu är det viktigt att ändra datum i EGNA arbetsytor. Modellerna har ett sista slutdatum 2020-12-30.
ÄNDRA SLUTDATUM I DINA EGNA ARBETSYTOR I VIKINGEN
ÆNDR SLUTDATOEN PÅ DINE EGNE ARBEJDSFELT
Længere ned på dansk
Further down in English
Vid årskiftet visas inga nya kurser i dina egna skapade arbetsytor. Modellernas slutdatum i dina egna arbetytor är antagligen 2020-12-31, om du inte redan ändrat det själv.
Vi jobbar för fullt med att lansera en ny utgåva av Vikingen och där kommer alla arbetsytor och modeller att vara uppdaterade med nya datum. Har du inte gjort några egna arbetsytor, behöver du inte ändra något. Nya utgåvan kommer inom 2 veckor.
Gör så här:
1. ÖPPNA ARBETSYTA
2. KLICKA PÅ HÖGER MUSKNAPP I ETT DIAGRAM  (OM DU ÄR HÖGERHÄNT)
3. MODELLINSTÄLLNINGAR
4. ANALYSPERIOD
5. SKRIV IN EN TID LÅNGT FRAM, TILL EXEMPEL 2319-01-02
6. SPARA-OK-SPARA-OK
7. GÖR SOM OVAN FÖR ALLA DIAGRAM I ARBETSYTAN
8. SPARA ARBETSYTAN
Här är en film om hur du ändrar (SVENSK/DANSK): KLICKA HÄR
Here is a movie about how to change the end date (English version): CLICK HERE
Dansk
ÆNDR SLUTDATOEN PÅ DINE EGNE ARBEJDSFELT
Ved årsskiftet vises der ikke nye kurser på dine egne oprettede arbejdsfelt. Slutdatoen for modellerne i dine egne arbejdsfelter er sandsynligvis 2020-12-31, hvis du ikke allerede har ændret det selv.
Vi arbejder på fuld tid med at lancere en ny udgave af Vikingen, og der vil alle arbejdsfelter og modeller blive opdateret med nye datoer. Hvis du ikke har oprettet dine egne arbejdsfelter, behøver du ikke ændre noget. Nya utgåvan kommer inden for 2 uger.
1. ÅBENT ARBEJDSFELT
2. KLIK PÅ HØJRE MUSE-KNAP I ET DIAGRAM (HVIS DU ER HØJRE HÅND)
3. MODELINDSTILLINGER
4. ANALYSEPERIODE
5. INDGIV EN TID langt frem, TIL EKSEMPEL 2319-01-02
6. GEM-GEM
7. GØR SOM OVEN FOR ALLE DIAGRAMMER I ARBEJDSFELTET
8. GEM ARBEJDSFELTET
Her er en film om, hvordan man ændrer sig (SVENSK / DANSK): KLIK HER
Here is a movie about how to change the end date (English version): CLICK HERE
English
Change the end date in your own Workspaces
At the turn of the year, no new courses will be displayed in your own created workspaces. The end date of the models in your own workspaces is probably 2020-12-31, if you have not already changed it yourself.
We are working full time to launch a new edition of Vikingen and there all workspaces and models will be updated with new dates. If you have not created any own workspaces, you do not need to change anything. The new edition will arrive within 2 weeks.
To do:
1. OPEN A WORKSPACE
2. Click on the right mouse button in a chart                     (if you are righthanded)
3. MODEL SETTINGS
4. TIME PERIOD (Analysperiod, Analysperiode)
5. Write a date in the future, for example, 2319-01-02
6. SAVE-SAVE
7. Do the above for all charts in the workspace
8. SAVE THE WORKSPACE
Here is a movie about  how to change the end date (English version): CLICK HERE