Veckans heta svenska aktier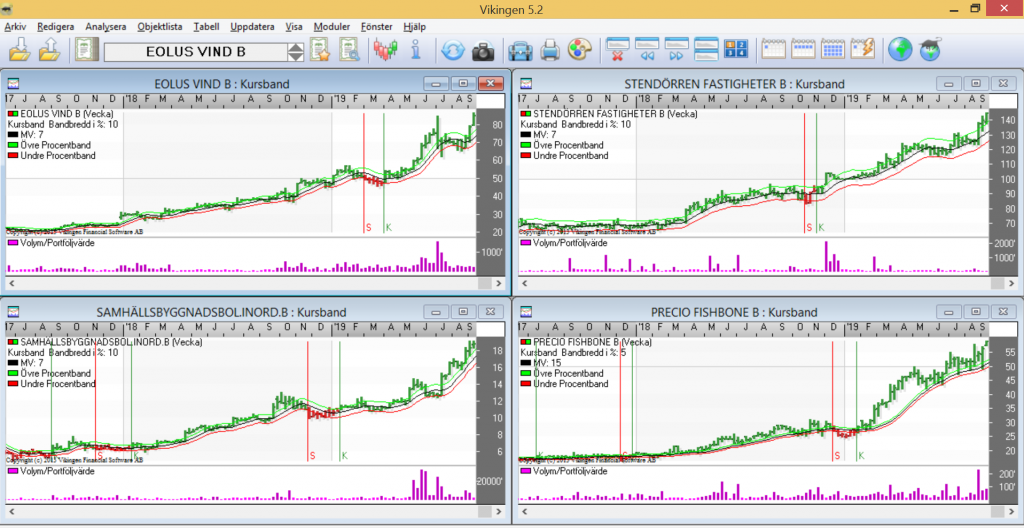 Börsen står still, eller har den toppat? Det finns några aktier som grafiskt ser ut att kunna ge mer. Historiskt har 3 av 4 av mina tips gått in, hoppas att det blir så den här veckan också. Bland veckans aktier är det ingen speciell bransch som sticker ut. Det är en blandning av medicin-fastighet-green tech.
Precio har en god vinst- och marginaltillväxt. Generic har en hög utdelning (7.69% enligt Vikingen). Även Clas Ohlsson har bra utdelning. Stendörren tjänar mycket pengar. Samhällsbyggnadsbolaget, NP3 Fastighet och Eolus Vind har MYCKET goda nyckeltal.
Jag har en enkel köpregel – köp aktier som går upp.
Samt en enkel säljregel: Sälj dem när deras veckotrend bryts. "Let the trend be your friend".
| | | | | | | | | | |
| --- | --- | --- | --- | --- | --- | --- | --- | --- | --- |
| Objekt | Tid | Diff | Diff (%) | Diff(%)  från 2019-01-02 | Senast | Högsta | Lägsta | Första | Volym |
| EOLUS VIND B | 2019-09-02 | 6,4 | 8,13 | 77,29 | 85,1 | 86,5 | 79,2 | 79,2 | 254157 |
| MEDICPEN | 2019-09-02 | 0,05 | 7,72 | 152,96 | 0,73 | 0,77 | 0,65 | 0,69 | 1480945 |
| QIIWI INTERACTIVE | 2019-09-02 | 1,25 | 6,72 | 155,47 | 19,85 | 19,95 | 18,5 | 19,95 | 20680 |
| JOSAB WATER SOLUTIONS | 2019-09-02 | 0,36 | 6,16 | 200,97 | 6,2 | 6,34 | 5,84 | 5,9 | 2137482 |
| GREATER THAN | 2019-09-02 | 3,5 | 5,98 | 53,47 | 62 | 65 | 56,5 | 58,5 | 67986 |
| NP3 FASTIGHETER | 2019-09-02 | 5,3 | 5,6 | 64,47 | 100 | 103 | 94,2 | 94,8 | 183023 |
| INISSION B | 2019-09-02 | 6 | 5,41 | 129,41 | 117 | 118 | 111 | 111 | 2194 |
| CLAS OHLSON B | 2019-09-02 | 4,85 | 5,05 | 29,15 | 100,8 | 101,3 | 96,05 | 96,05 | 488797 |
| LIME TECHNOLOGIES | 2019-09-02 | 5,4 | 4,88 | 45,91 | 116 | 116 | 111 | 113 | 4289 |
| PRECIO FISHBONE B | 2019-09-02 | 2,6 | 4,61 | 126,92 | 59 | 59 | 57,2 | 57,4 | 84662 |
| MENTICE | 2019-09-02 | 3,5 | 4,56 | | 80,2 | 80,5 | 77 | 78 | 10002 |
| GENERIC SWEDEN | 2019-09-02 | 0,4 | 4 | 40,54 | 10,4 | 10,4 | 10,05 | 10,05 | 75329 |
| STENDÖRREN FASTIGHETER B | 2019-09-02 | 5 | 3,57 | 45,29 | 145 | 145 | 137,5 | 139 | 25783 |
| JLT MOBILE COMPUTERS | 2019-09-02 | 0,24 | 3,49 | 82,56 | 7,12 | 7,12 | 6,94 | 7,04 | 53757 |
| SAMHÄLLSBYGGNADSBOL.INORD.B | 2019-09-02 | 0,44 | 2,4 | 76,03 | 18,8 | 19,08 | 18,2 | 18,7 | 1740645 |
| ASTRAZENECA | 2019-09-02 | 17,8 | 2,02 | 32,93 | 900,7 | 904,9 | 885,3 | 889 | 313125 |