Börsnedgång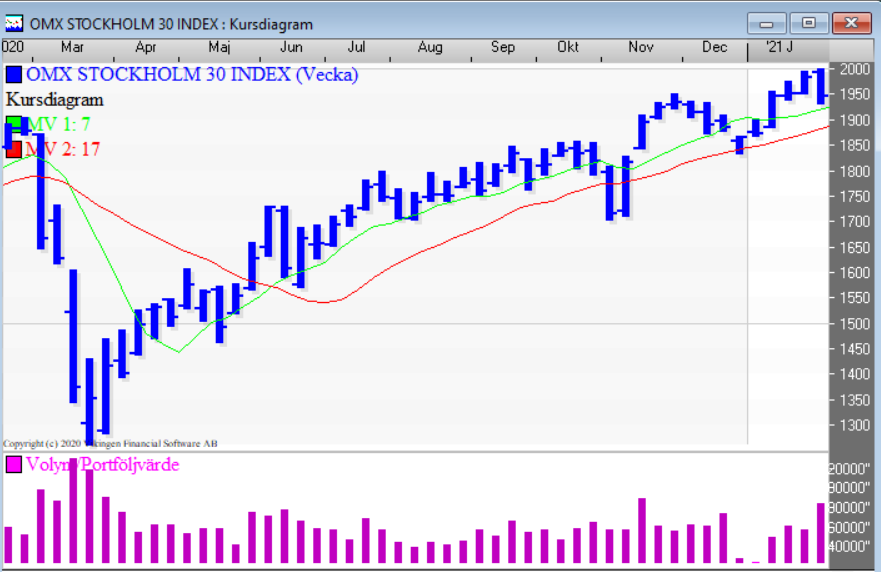 Flera börser uppvisar omslagsformationer och vi står bland annat därför inför en börsnedgång.
Säljläge i börsnedgången
Senaste veckan blev det en One-Week-Key-Reversal på Stockholmsbörsen. OMXS30 gick under förra veckans lägsta index och dämed fick vi ett omslag i trenden nedåt.  Jag väljer också att ta hem vinsten i en aktie, Cellink. Den har ännu inte gett säljsignal, men i detta läge vill jag värna om vinsten. Embracer har en dubbeltopp i RSI=säljsignal. Footway har brutit sin uppåtgående trend och gått igenom stt stöd. Kahoot har brutit sin trend.
WHEN IN DOUBT – STAY OUT
Mycket oro för att det nya viruset ska sprida sig. Det gör att viruset antagligen biter sig fast en längre tid än vi trott tidigare och därmed säljs även innehavet i Norwegian Air Shuttle. Det kanske inte blir så mycket resande i sommar heller. Trendvändning i form av dubbeltopp på Köpenhamns – och Oslo-börsen. DAX har en huvudskuldra-formation. S&P 500 har brutit sin korta uppåtgående trend.
Användarna av Vikingen får detta nyhetsbrev först (torsdag). Sedan de som har endast nyhetsbrev och slutligen publiceras det på webbplatsen och på Twitter.
VIKINGEN PORTFOLIO, plus 85% 2020.
Sälj
| | | | |
| --- | --- | --- | --- |
| Objekt | Tid | Senast | |
| CELLINK B | 2021-01-29 | 270 | SEK |
| EMBRACER GROUP B | 2021-01-29 | 191,55 | SEK |
| FOOTWAY GROUP B | 2021-01-29 | 27,4 | SEK |
| KAHOOT | 2021-01-29 | 109 | EUR |
| NORWEGIAN AIR SHUTTLE/OB | 2021-01-29 | 56,02 | NOK |
Köp
Det är ett trendomslag nedåt på flera börser. Dålig tid att köpa aktier. Avvakta till dess att det fallit färdigt eller börjar att gå upp igen. Risken har ökat. Antagligen kommer bankerna säga att man ska ta det lugnt, sitta still i båten, etc… Allt för att försvara sina egna fonder och tidigare rekommendationer. Du som använder Vikingen kan vara mer objektiv. Tro inte på allt som skrivs i finansvärlden. De kan ha en bakomliggande agenda. Vikingens enda agenda är det ska bli fler användare av programmet samt behålla användarna genom att ge bra signaler. Vi tjänar inget på ökad handel.
Dessa köp tas fram med den nya autopiloten nummer 03 som kommer inom några veckor. Därefter går jag igenom alla aktier på alla börser som går upp mest och försöker se om de har mer att ge. Uppenbarligen en vinnande strategi; att satsa på de som stiger. Den går igenom alla aktier i Vikingen, det vill säga Sverige-Danmark-Norge-Finland-NASDAQ-NYSE. Har du Vikingen och abonnemangen Nordic Complete+NASDAQ+NYSE, kan du själv följa aktierna.
I min egen privata portfölj har jag SAS, Norwegian, Veg of Lund, Boliden, G5, Vestas (men det kan ändra sig fort).
Dansk (google)
Salgsposition i aktiemarkedet
Sidste uge var der en salgsignal af en One- Week-Key-Reversal på Stockholms Fondsbørs. OMXS30 gik under sidste uges laveste indeks, og dermed fik vi en vending i den nedadgående tendens. Jeg vælger også at tage overskuddet hjem i en aktie, Cellink. Det har endnu ikke givet et salgssignal, men i denne situation vil jeg sikre overskuddet. Embracer har en dobbelt top i RSI = salgssignal. Footway har brudt sin opadgående tendens og gennemgået stt support. Kahoot har brudt sin tendens.
WHEN IN DOUBT – STAY OUT
Der er stor bekymring for, at den nye virus vil sprede sig. Det betyder, at virussen sandsynligvis vil bide i længere tid, end vi tidligere havde troet, og dermed vil beholdningen i Norwegian Air Shuttle også blive solgt. Det er måske ikke så meget at rejse i sommer heller. Vending af trend i form af en dobbelt top på børsen i København og Oslo. DAX har en hoved skulder formation. S&P 500 har brudt sin korte opadgående tendens.
Brugerne af Vikingen modtager dette nyhedsbrev først (torsdag). Derefter dem, der har nyhedsbreve, og endelig er det sendt på hjemmesiden og på Twitter.
VIKINGEN PORTFOLIO, plus 85% 2020! Vær også med!
Sælge
| | | | |
| --- | --- | --- | --- |
| Objekt | Tid | Senast | |
| CELLINK B | 2021-01-29 | 270 | SEK |
| EMBRACER GROUP B | 2021-01-29 | 191,55 | SEK |
| FOOTWAY GROUP B | 2021-01-29 | 27,4 | SEK |
| KAHOOT | 2021-01-29 | 109 | EUR |
| NORWEGIAN AIR SHUTTLE/OB | 2021-01-29 | 56,02 | NOK |
Købe
Det er en tilbagevendende tendens på aktiemarkedet. Dårlig tid til at købe. Vent, indtil den er faldet eller begynder at stige igen. Risikoen er steget. Bankerne vil sandsynligvis sige, at du skal tage det med ro, sidde stille i båden osv … Alt for at forsvare sine egne fonder og tidligere anbefalinger. Du, der bruger Viking, kan være mere objektiv. Tro ikke alt, hvad der er skrevet i den finansielle verden. De kan have en underliggende dagsorden. Vikings eneste dagsorden er at have flere brugere af programmet og fastholde brugere ved at give gode signaler. Vi tjener ikke på øget handel.
Disse køb foretages med det nye autopilotnummer 03, der ankommer inden for få uger. Det gennemgår alle aktierne i Vikingen, dvs. Sverige-Danmark-Norge-Finland-NASDAQ-NYSE. Så kigger jeg gennem alle aktier på børserne, der går mest op og prøver at se, om de har mere at give. Åbenbart en vindende strategi for at satse på dem; der rejser sig. Hvis du har Vikingen og abonnementerne Nordic Complete + NASDAQ + NYSE, kan du selv følge aktierne.
I min egen private portefølje har jeg Veg of Lund, SAS, Norwegian Air Shuttle, Boliden og G5 (kan ændre sig hurtigt).
Formålet med denne portefølje er at give så høj langsigtet fortjeneste som muligt, kunne være en fond. Men du gør det selv i henhold til mine instruktioner. Det vil sige, jeg vil altid sende, når det er tid til at sælge i henhold til min fortolkning af Vikingen.