Tanken med modellen är att identifiera en trend som man kan följa. En typ av RSI-modell där man jämför de största högsta och lägsta kurserna under en period. I optimeringar i Vikingen, blir den sällan eller aldrig bästa modell med varken dags/vecka/månad.
Modellen beräknar köp- och säljkraft (BuyPower, SellPower) Köpkraften (BuyPower) beräknas som den högsta kursen under en period minus den lägsta kursen under en lika lång period före. Till exempel högsta från 0 till15 dagar bakåt och lägsta under 16 till 30 dagar bakåt.
Säljkraften (SellPower) beräknas på samma sätt men där tas högsta kursen dag 16 till 30 minus lägsta kursen dag 0 till 15.
Trend Trigger Factorn beräknas sedan via:
((BuyPower-SellPower) / (0.5*(BuyPower+SellPower)))*100.0
så att man får ett värde som svänger runt 0. Ett värde på Trend Trigger Factor över 100 ger köp. Under -100 ger sälj. Ett värde mellan 100 och -100 innebär behåll.
Ofta en känslig modell som kan ge för mycekt handel när kursen står still. Den fångar bra upp snabba förändringar. Därför kan det vara bra att använda den här tillsammans med en långsam modell.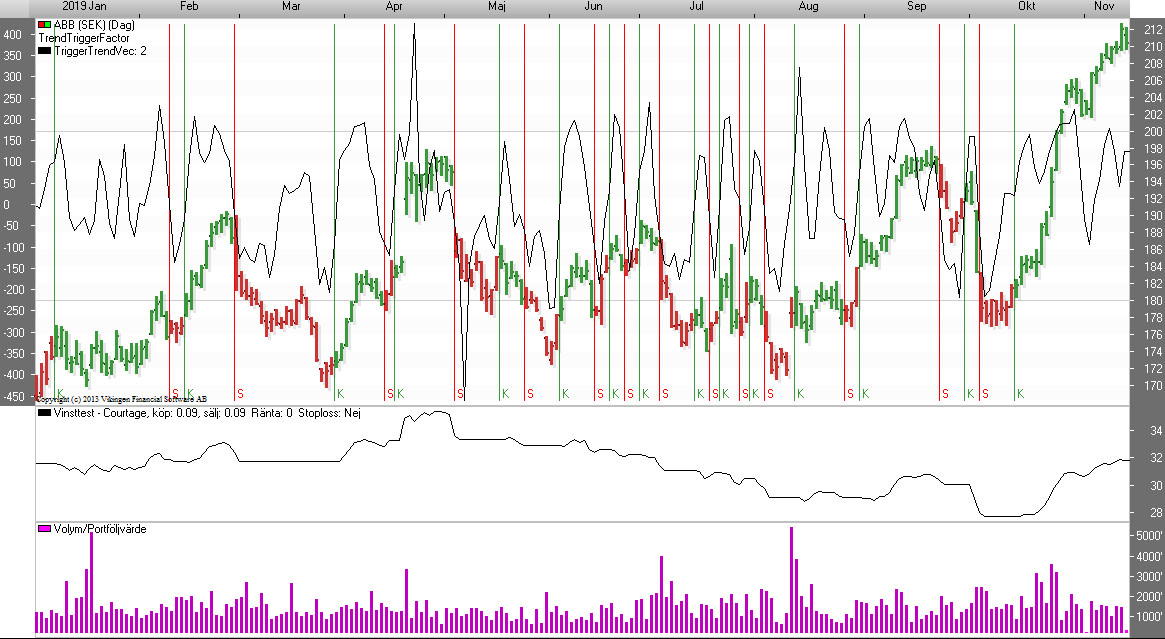 Modellen tagen frånTechnical Analysis of Stocks & Commodities, december 2004
Här är inledningen på artikeln om Trend Trigger Factor:
Stocks & Commodities V. 22:12 (28-36): Trend Trigger Factor by M.H. Pee
"Whether you're trading short term or long term, the only way to make money in the market is to position yourself in the direction of the trend.
The markets are mostly random, but they do have a small trend component. It is this trend component that you should take advantage of if you want to make money in the markets. I don't mean you should buy at the bottom of a trend and sell at the top by predicting exactly when it will start and when it will end. What you should do is follow the trend and ride it along until you see weakness. The further the market moves from your entry price in your direction, the more you will make the stronger the trend, the more opportunity you will have to make a larger profit."
Related Articles